How many plants are in your collection?
Around 30.
How and why do you like using plants in the spaces you create?
Plants just make me happy. To me, an interior without plants feels like an interior without a soul. Minimal homes with calm vibes and clean lines in white, beige and grey are very popular at the moment. Those interiors are stunning, but there's just something missing (plants, it's plants!) You don't have to go full jungle to experience the benefits of green in your interior. If you're looking for a simple eye-catcher, a gorgeous, tall bird of paradise (Strelitzia nicolai) or rubber tree (Ficus elastica) will definitely do the trick.
You moved to Norway from Amsterdam to be closer to nature. Why do you think you were drawn to this move?
Moving away from Amsterdam made us realise how much stress the city life had caused us over the years. The fresh air and slower pace made us feel so much at ease. Since Sam is half Norwegian, moving to Norway had always been a subject of conversation. Then Sam got offered a job and we found the farmhouse of my dreams, with gorgeous views and our own forest, so we just decided to go for it.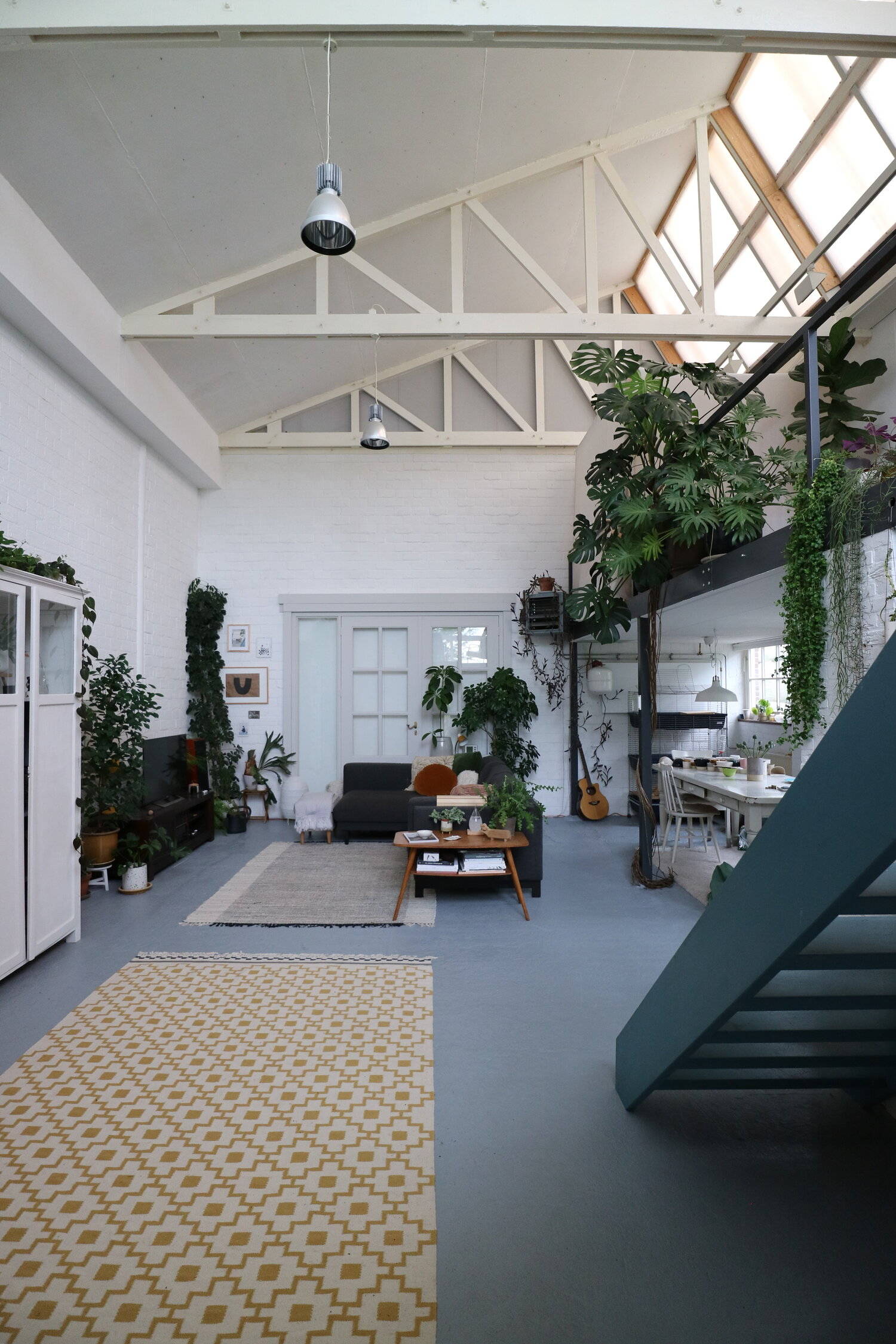 "Plants just make me happy"
Pictured: Rubber Plant (Ficus elastica)
— Rena Noordermeer
How have your plants responded to the move ?
We had over a hundred plants before the move, but it just wasn't possible to take them all with us. We found new homes for most of them. When it comes to plants, you need to think about a few things: does it get full sun, filtered sun or shade? How much room is there for a plant to grow? How much maintenance does it need? The studio in the Netherlands was a bright loft with heigh ceilings. the house in Norway is less bright, has smaller rooms and the winter days are darker. So we selected the plants that were suitable for those conditions. Loading them into the moving truck made me very anxious, but they all survived the three-day journey. A few plants dropped some leaves during the winter months, but I'm glad to say they've all pulled through!
Do you always use plants when you're styling?
Yes! I can't imagine doing any styling without plants.
From afar, your planting looks so effortless. Has gardening always been easy for your?
Taking care of houseplants comes easy to me. I learned a lot about plants during my time in Wildernis, a plant shop in Amsterdam, but I'm also lucky to have 'green fingers'. Gardening, on the other hand, is a completely different story. It's something you can't just do on intuition - you have to have a certain amount of knowledge. I guess I'll learn by trial and error.
How would you describe the feeling you experience when you see plants?
It's a feeling of happiness and amazement. I'm totally in my element when we're surrounded by plants. Non-plants people will probably laugh about it, but I get really enthusiastic about plants. The way they grow, the colours, the textures, how they respond to light, etc. Nature never ceases to amaze me!
"An interior without plants feels like an interior without a soul"
Pictured: Velvet Leaf Philodendron (Philodendron micans) & Spiderwort (Tradescantia)
As a couple who works together, how have you found the impact of plants on your personal and working relationship?
Our personal and working relationship feels like one and the same thing. We both draw most of our inspiration from nature and really enjoy a walk outside or a visit to a greenhouse and garden centre. It's great to share this fascination. I might love Sam just a little bit more when he's all excited about some mosses he spotted during a walk in the forest.
If you could imagine the perfect city, what would it look like?
My perfect city would definitely look like an urban jungle with a focus on slow living. A place where architecture and nature go hand in hand. A city with lots of parks and places where insects, birds and other animals can thrive. A place that's not all about efficiency and a fast-growing economy, but about balance, sustainability and respect.
http://www.hearhearamsterdam.nl/newsite/
@STUDIOHEARHEAR @THEENDEAVORIST